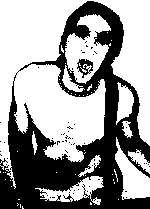 WHAT ZEBULUN IS
Zebulun is an industrial/hardcore/techno project created in 1994 by Ben-G. Since that time the project has faded away at times and then come back. Several songs have been written and two were recorded in the Cedarville College multi-track studio. "I TRUST" was recorded in the Fall of 1995 and "CARPE THIS" was recorded in the Spring of 1996. A video was shot and produced by Ben-G for the song "CARPE THIS". Ben-G is the sole musician in the band having done all the instruments, vocals and sequencing for both songs.
---
STATS
NAME: Ben-G
AGE: 23
BIRTHPLACE: San Clemente, CA
CURRENT HOME: Vista, CA
VEHICLE: 1977 AMC Gremlin
PIERCINGS: Three in left ear(2 lobe, 1 cartilage), one in right(cartilage), tongue
LIKES: Music, Art, Computers, Tales From the Crypt, Archie Comics, Girls with nose rings
HATES: Country Music, Yugos & Geo Metros, Big Egos, Weird potluck food
MUSIC LIKES: The Crucified, Circle of Dust, Mortal, Traci Lords, Bee Gees
MUSIC HATES: Garth Brooks, Some U2, The Metallica "Load" album, Deicide, Marilyn Manson
MOVIE LIKES: Mortal Kombat, The Frighteners, Dazed & Confused, Tank Girl
MOVIE HATES: Glen or Glenda, Plan 9 From Outer Space, Any Free Willy movie
EDUCATION: College Senior at Cal State University of Bakersfield
MAJOR: Communication Arts [Video Media Emphasis] with a history minor--(Like I'll use that!)
---
WHAT ZEBULUN BELIEVES
Zebulun believes first and foremost that God is the sole Creator of all things in this world and beyond. Zebulun believes that God loved the world so much that He sent His Son, Jesus Christ to Earth as a perfect man then lived a perfect life and was crucified and rose again on the third day to pay the penalty for the sins of all mankind. The only way to eternal life and true fulfillment in this mortal one is through Jesus Christ. If you have any questions regarding God, Jesus, The Bible, Salvation or anything else related, send me an e-mail.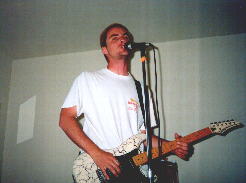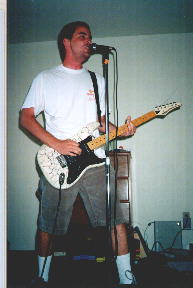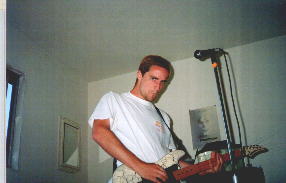 My friend Rachelle needed some pictures to paint for an art resume and chose me for the subject. For some reason, I didn't dress up for the occasion either. I know, you can't see my amp & speakers...I guess they weren't in the frame...But I really am playing. :-)
---
---